Simple. Affordable. Fresh.
Fill your fridge and pantry with an assortment of popular produce from our Staples Box. Fresh, versatile ingredients that can be used to create a variety of healthy meals and snacks for the whole family. No subscription or signing up required.
Choose from Mixed Fruits & Vegetables, Fruit Only and Vegetable Only options. And don't worry - all variety boxes can be modified to exclude any unwanted items. Need a little bit extra? Top-Ups & Add-Ons available. Don't like surprises? Reach out to us to build your own Custom Crate.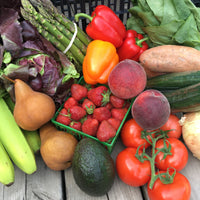 Free Delivery
Every Staples Box and Custom Crate includes free contactless delivery in Hamilton & Burlington, between 9am-6pm. You'll receive an email notification once your order has been delivered. Please Note: Binbrook and Caledonia Saturdays only. Burlington and Waterdown Thursdays only.
Ontario Produce
Our commitment to local first means we prioritize seasonal, locally grown produce when it's available. You can feel good knowing you'll always receive the best fruits and vegetables Ontario has to offer!
Freshness Guarantee
Our boxes are packed with care the morning of delivery to ensure only the freshest, top quality produce reaches your door. If you aren't completely satisfied, let us know and we'll make it right.
Contact Us